THE BJORN IDENTITY ® ABBA TRIBUTE BAND UK & IRELAND
A tribute band honed to perfect and performing at the top of their game to sell out audiences across UK and Europe CORPORATE EVENTS, THEATRES, OUTDOOR FESTIVALS, PRIVATE PARTIES, THEMED NIGHTS & WEDDINGS.
The Björn Identity ® live and breathe the music of ABBA, passionately performed at every show. When you book us as entertainment for your Abba tribute night we ensure you are provide nothing short of excellence.
With a cast of professionally trained actor, singers & musicians with worldwide tours already ticked off their career goals list, a wealth of stage experience brings a team dedicated to studying the sound and re-creating the true essence of Abba, faithfully; the way that an authentic tribute band should. A self-contained production with professional sound & lighting engineer. We also provide a video AV show – a real winner at corporate events & theatres.We are proud to be one of the few Abba Tribute bands in UK to supply a replica of Benny's white Yamaha CP80 stage piano for that true concert look included in every show. This ABBA show is a huge hits with audiences of all ages a huge crowd pleaser as well as a detailed show for die hard Abba fans created by fans of Abba!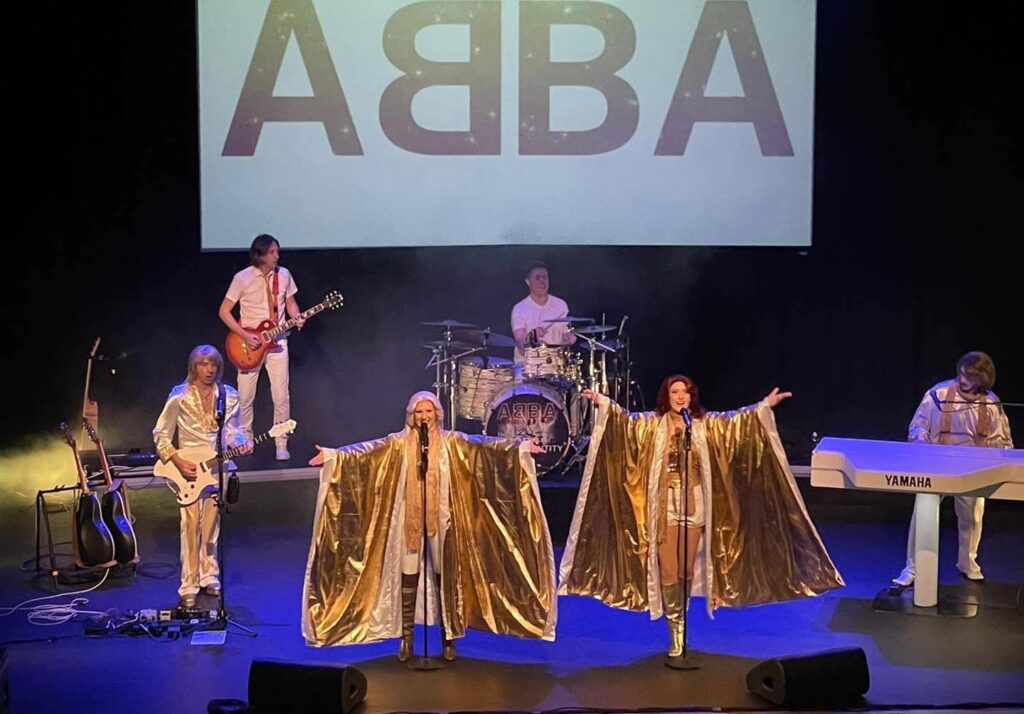 THE LINE UP – FULLY LIVE – NO MIMING AT ANY SHOW!
Available up to a 7pc band format
Bands Line up:
RECOMMENDED FOR SMALLER STAGES & EVENTS
4pc – 2 x female vocalists, 1 x Bjorn LIVE Guitarist, 1 x Benny LIVE Keyboard
5pc – 2 x female vocalists, 1 x Bjorn LIVE Guitarist, 1 x Benny LIVE Keyboard plus Drummer
RECOMMENDED FOR HEADLINE FESTIVAL, LARGE SCALE CORPORATE EVENTS & THEATRES
7pc – 2 x female vocalist 1 x Bjorn LIVE Guitarist 1 x Benny LIVE Keyboard plus Drummer, 2nd (lead) Guitarist & Guest Saxaphone
Show Sets:
60 min – HIGH ENERGY NON STOP PARTY SET (HEADLINE ACT/SUPPORT)
95 mins – FULL SHOW HIGH ENERGY NON STOP (HEADLINE/PARTY NIGHTS
2X50mins – COMPLETE ABBA GREATEST HITS SHOW (HEADLINE, HOTELS, PRIVATE FUNCTIONS)
2hr production – THEATRES OR FESTIVALS (CONTACT US FOR FURTHER INFO)
* Background music can be provided as curtesy . before, between and a max of 30 mins after out last set. Provided by a band member/sound engineer, please not this is not a replacement DJ service. If you wish to book us along with a dedicated specialised DJ/compare we can recommend one for you for a additional charge ** highly recommended for weddings, corporate events and Xmas party nights.
FOR MORE INFO AND A PERSONAL QUOTATION FOR YOUR EVENT – PLEASE CONTACT US
The legal bit>>>>
Bjorn Identity Abba Tribute band are comprehensively insurance to perform at your event with 10 million public liability & Employers Liability. All equipment is annually PAT tested complying with all venues specifications and risk assessments are available upon request.
Further info: The Bjorn Identity is a trade-marked brand reserving the right to use this name and shall never be publicised anywhere without the use of it and with respect to ABBA copyright ownership shall never be publicly advertised as simply 'ABBA' and must include 'ABBA tribute' as subheading to all marketing.
We reserve the right to change the cast line up at any time. All our cast members & deputy performers/musicians are professionally trained for the stage and are show ready to step in to cover illness or unavailability of original band members, ensuring the high standards of our Abba Tribute show is maintained and demand from our fans are kept.