Sophie Grier is Frida Lyngstad
Introducing Singer Sophie Grier who was cast as Frida Lyngstad in The Bjorn Identity Abba tribute show in February 2020, weeks before the country went into a Covid-19 lockdown.
24-year-old Sophie who is a triple threat creative as an Actress, Singer & Artistic Director's, dream job was put on hold when restrictions forced the entertainment industry to close their doors in March 2020.
She like many she was forced to take up 'other work' outside of her first choice career, spending months in a packing warehouse during lockdown while her shows with The Bjorn Identity Abba tribute band and performing arts school she teaches were all cancelled.
Through boredom videos she posted on TikTok of her singing on the job racked up millions of views and our Sophie became a TikTok star.
1 year on we were all still waiting "We can't believe we began our own star search for Frida this time last year and she is still patiently waiting to take to the stage with the band" said Karen, band manager & Agnetha in personator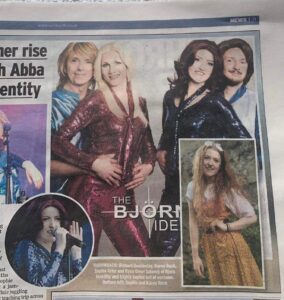 Finally launching her sensational, tightly rehearsed, stage ready Frida at Camp Dalfest in July 2021 with a stellar line up of artists including, Ella Henderson, Pixie lott and the Undertones when entertainment was still only allow outside.
Check out her wonderful interview in the Sunday Life this weekend about her Voyage so far with The Bjorn Identity
'I've waited 18 months to perform this show indoors' quoted Sophie to Belfast live during sound check at Theatre At The Mill Newtownabbey during one of the bands first return to the indoor theatre stage, Socially distanced performance – read more on this interview:
Sophie Past & Present
Sophie was born in Mulhouse, France in 1997 but she grew up in Whitehead, Northern Ireland. She has always had a love for performing, taking Irish dance, participating in school productions and singing in choirs from a young age.
Carrickfergus Grammar is where Sophie's love of music was developed and nurtured. She played violin in orchestras and string quartet as well as achieving her grade 8 violin with distinction. She was also a member of the Senior Choir who came runner up in the BBC Ulster School Choir of the Year and toured with them to Paris, singing in the Notre Dame. She studied performing Arts GCSE and Music A level, receiving school honours with distinction for her commitment to music.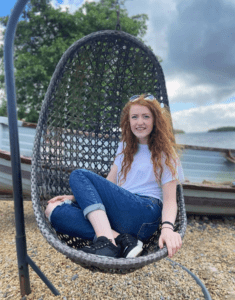 Sophie joined Uplift in January 2013 and quickly fell in love with everything they do. She has since taken part in countless shows over the years. She volunteered for Uplift helping teach at the Whitehead branch since it began up until September 2016. Being part of Uplift has also granted Sophie International performance experience. In 2014 she was part of their first international team attending Dance excellence in LA where she was given the opportunity to perform in Disneyland. One of Sophie's many highlights from her time with Uplift is being a member of the Danville Cast in 2014, 2016, 2018, 2019 and 2022 as she loves getting to teach, direct and inspire the youth in Kentucky through the arts.
In 2016/17 Sophie took a gap year to the Netherlands doing youth work to focus on her passion for working with Young people internationally. Here she organised cross-cultural exchanges, lead youth groups and taught English lessons in schools.
Upon returning to N.I. Sophie began teaching at Uplift Performing Arts in 2017 and since then has co-directed numerous shows such as 'The Little Mermaid Jr', Uplift's '10 year Anniversary Show' and 'Movie Musicals'. She has also been the Musical Director for 'The Addams Family', 'Musicals at the Mill' and 'Broadway to Belfast'.
As well as working behind the scenes Sophie is also a performer in her own right having gained her LCM and ALCM diploma in Musical Theatre and getting signed to 'Rising Talent Agency'. She performs weekly with one of Ireland's top tribute bands 'The Bjorn Identity' as their 'Frida', touring theatres and selling out venues all around Ireland. Recently they had the privilege of playing the main stage at Dalriada festival, supporting The Undertones and Pixie Lott.
Sophie loves working with the Uplift Students, getting to know them as people as well as helping them develop as singers and performers. She is passionate about the arts and Uplift's aim of helping increase self confidence and self esteem through creative outlets. She is thankful for all the experiences she has been given through Uplift and can't wait to see what's in store next!
The Björn Identity ® based in Belfast, Northern Ireland, exceed all expectations of Abba tribute bands and are widely known for their love of audience participation, Swedish humour, professionalism and commitment to the music of their tribute idols. Now one of the finest LIVE Abba tribute shows this side of Sweden and undoubtedly the best in Ireland, they have taken theatres & live music venues across UK & Europe by storm with their authentic recreation of 'Abba in Concert'. A tribute band at the top of their game.
Featuring performers with West-End & International tribute ABBA show touring experience. They will astound you, not only in visual likeness but with impressive studied live vocal performances & choreography frighteningly close to the real thing!!
"When you book The Bjorn Identity, ABBA will be there!" – Musicon Entertainment & Productions