The Bjorn Identity Abba Tribute have a new merchandise shop and it's now launched!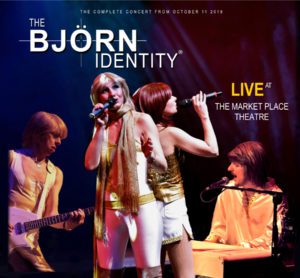 Let us officially introduce you to our brand new, first ever recorded 'LIVE' album.
The Bjorn Identity Live at The Market Place Theatre is the complete concert recording from 11 October 2019. This is a special'DOUBLE' album, packed with 23 Abba songs featured in our concert tour Ireland. This beautifully remastered and edited CD with artwork designed by our good-selves as a passion project worked on through-out our time in lockdown. After months in the studio, we are so proud to finally be able to say. It's now on sale!!
For many years fans have asked us, after our shows if we sell any CD's. Now being the biggest fans of Abba, and humble Abba Tribute band from Belfast, Northern Ireland; we always found ourselves looking at our fans in curious wonderment, trying to comprehend this request. We thought "Why would anyone want to buy a CD of a local tribute band, when you can buy a CD of the real thing?" But over time we learned to accept this was a huge compliment to us as musicians and the consistently solid delivery our our performances and realised, that those asking where already fans of ABBA; what's key here is that they are now fans and 'Friends of The Bjorn Identity'! You asked and we listened, as we always do.
The Bjorn Identity Live Album features the cast of our 2019 theatre tour.
All cast members of our Abba tribute are formed of some of the most talented performers and musicians from Northern Ireland but all world class seasoned professionals with over 25 years experience working Internationally in the entertainment and music business.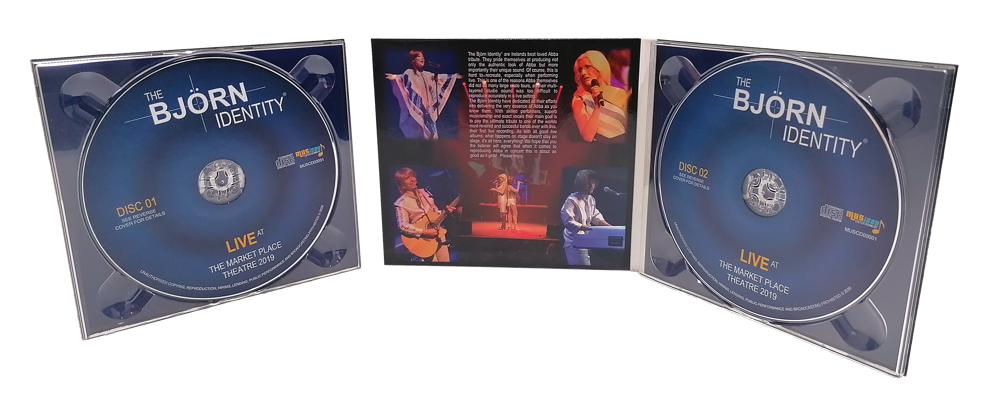 We consider this our most successful and authentic theatre tour yet and as a band we don't think we could present Abba with any more attention to detail as we managed to capture during this superb live Abba show performed at the Market Place Theatre Armagh in 2019.
What your will hear on this recording is the whole show from that night, slightly abridged but including much of our witty banter and audience interaction. What happened on stage is what you hear.
We are so very proud of our double Abba tribute band album. We think there is something special about being able to hold this beautifully designed Abba Album in the palm of your hand. We hope you will help support us by purchasing one (limited copies available) and enjoy listening to our first live show CD, until such times as we are able to return to live entertainment once again on a stage somewhere around UK and Ireland.
The Bjorn Identity - Merchandise Shop
We are very excited to make our new Bjorn Identity Abba merchandise available to you to buy online for the first time. We have a limited number of items available for you to purchase.
In light of the current need to wear a face covering and face masks due to the regulations now imposed by the UK government we thought our abba Belfast fans and beyond, might like to wear their very own Bjorn Identity branded face covering. If you not a fan of the standard face mask but ARE a fan of The Bjorn Identity Abba Tribute Northern Ireland then why not bring a little ABBA joy into this 'new norm'.
THE BJORN IDENTITY T-SHIRT
For nearly 10 years we have enjoyed giving away our band T-shirts to an unsuspecting member of our audience during our Abba theatre tour in Ireland or as part of a competition. Now available to buy through our shop. We have two options – Blue or White./p>