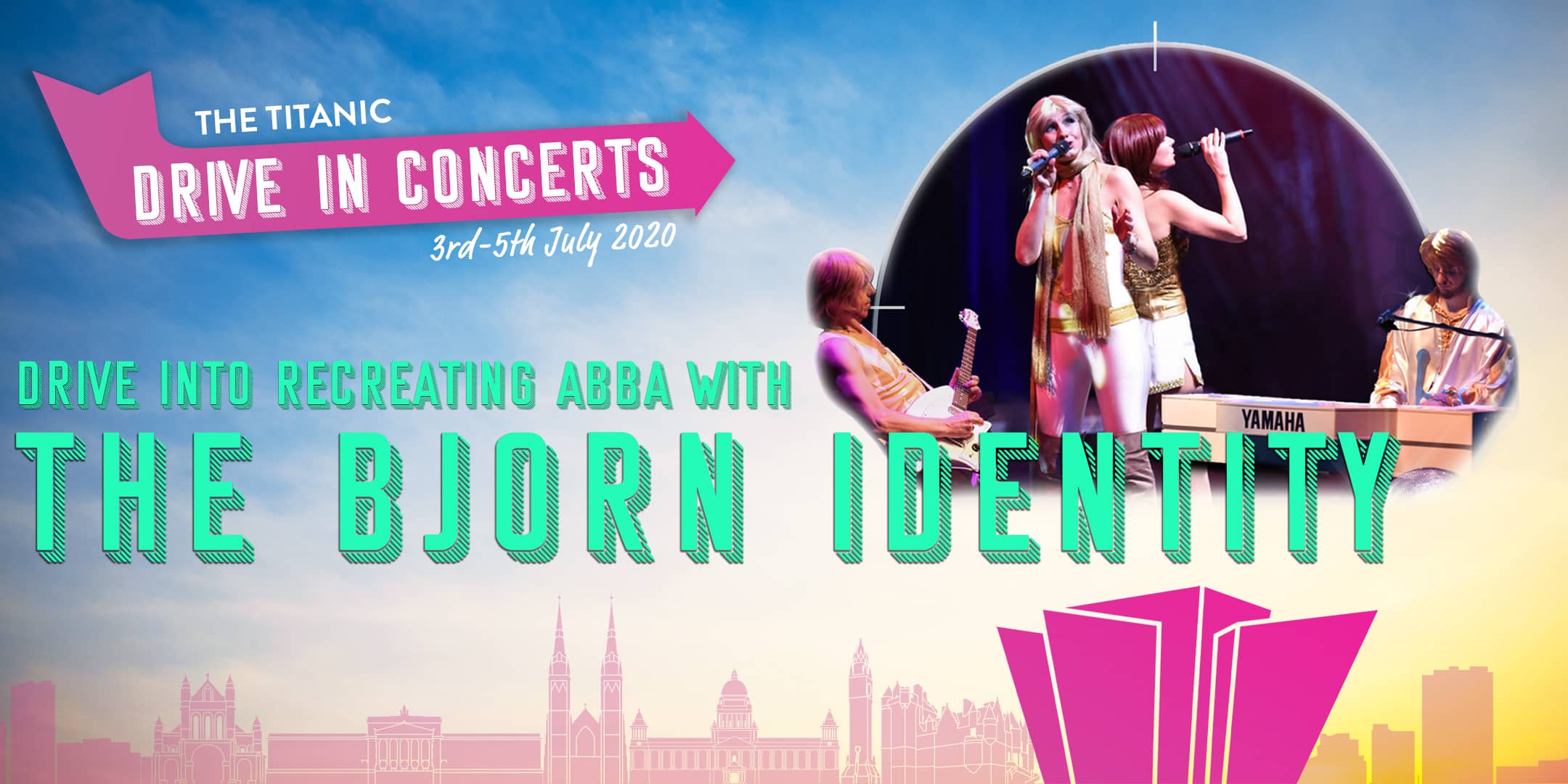 Live at the Abba drive in at Titanic Belfast.
Finally some good new stories during lockdown – The Bjorn Identity are back, live onstage this July!
How? … simply 'drive in' to Abba at Titanic Belfast. Tickets are on sale now
At a time when artistes and musicians were feeling as low as they thought they possibly could due to the very foundations of their business of music having been ripped from under then due to Coronavirus with no early signs or indication of when they will be allowed to performed again on a live stage; finally, there is some light at the end of this emotional and uncertain journey, we have all had to face together. The solution – a drive in concert
We are abba-solutely overjoyed to be able to announce that we, The Bjorn Identity have been invited to joining an amazing line up of some of Northern Ireland's finest most seasoned performers; all coming together to launch Belfast's, if not Irelands' very first series of drive in concerts.
Tickets will be very much in demand as audiences and music lovers and Abba fans across the province are crying out for some sense of relief and opportunity to get back to some sense of normality during the Corona virus lockdown… it's been a long 12 weeks or so.
SO WHAT CAN YOU EXPECT
Taking place at the Titanic Slipways from July 3 to 5, with top local entertainment lined up, featuring a variety of shows each day, giving everyone a chance to finally enjoy live music in the most unusual set up, that no one thought there would ever be a need for.
The outdoor concert venue can hold up to 300 cars, which means a potential audience of 1,200 people can enjoy each show with those they live with, while at the same time social distancing from others.
Over the weekend the event includes matinees such as 'Proms in the Car Park', 'Once Upon a Time' – story-telling and songs for children – and two evening shows with The Bjorn Identity performing Abba classics and Queen tribute act Flash Harry as well as former Les Miserables fame, Peter Corry himself doing what he does best bringing us home to musicals.
THE BJORN IDENTITY SHOWS
3RD JULY AT 6PM & 9PM
TICKETS ON SALE 10 JUNE 7PM
TO BOOK VISIT: PETER CORRY PRODUCTIONS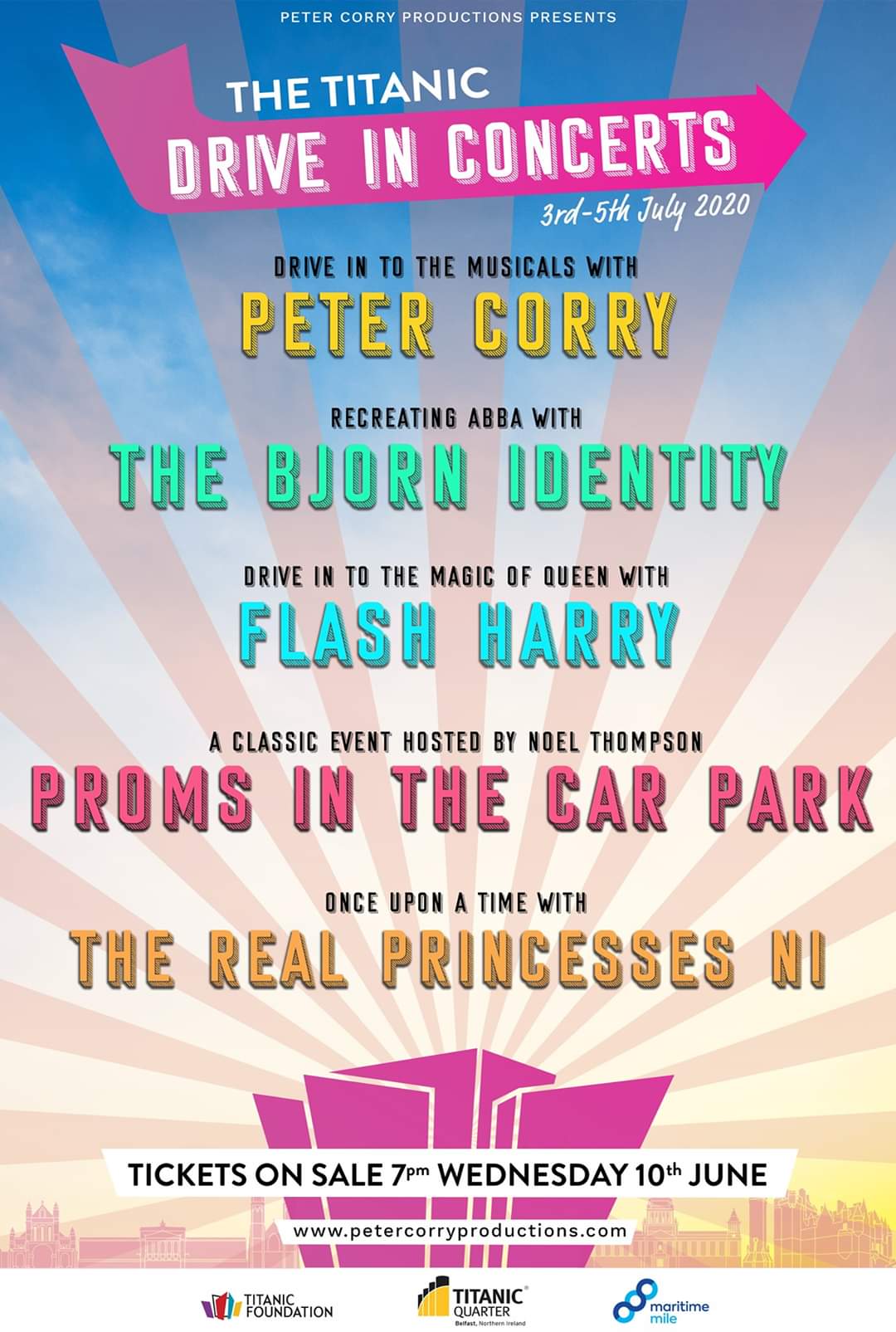 It's been a trying time for all the members of The Bjorn Identity and for us as a thriving working tribute band; it has been very hard emotionally not to mention worrying financially about what the future might hold for us and our management Musicon Entertainment and Productions and to the entertainment industry as a whole 'post covid'.
Only a few weeks ago we were devasted to announce the cancellation our 8th Annual Autumn Abba theatre tour as well as having to reschedule where possible our full diary of events for 2020 to 2021. The very thought of not being able to get back on stage again for up to a year was utterly soul destroying and hard to accept. We are not alone; the music and hospitality industry has been desimated by the effects and future aftermath of Coronavirus but we have had no choice but to accept this situation is a global issue and try to move forward and adjust.
We are delighted to be able to share our good news story with you today! to be working with the fantastic and innovative Peter Corry Productions, breaking boundaries and live concerts expectations, to bring you a drive in concert featuring live musicians. Proving that live music will and can endure and can learn to adapt performance platforms to adjust to a 'new but temporary norm' allowing audiences and musicians come together safely to enjoy live music once again.
What better way to present NI's most iconic tribute act to the 70's most iconic pop band Abba; than to stage it on Belfast's 'iconic' Maritime Mile on the Titanic Slipways with backdrop of the impressive Titanic Belfast and the Titanic Hotel. There is no way this gig is going to be a sinking ship 'excuse the pun'
Exciting times and encouraging times are ahead… with small steps to a once again brighter future for us all and this unique concert experience is helping us realise this.