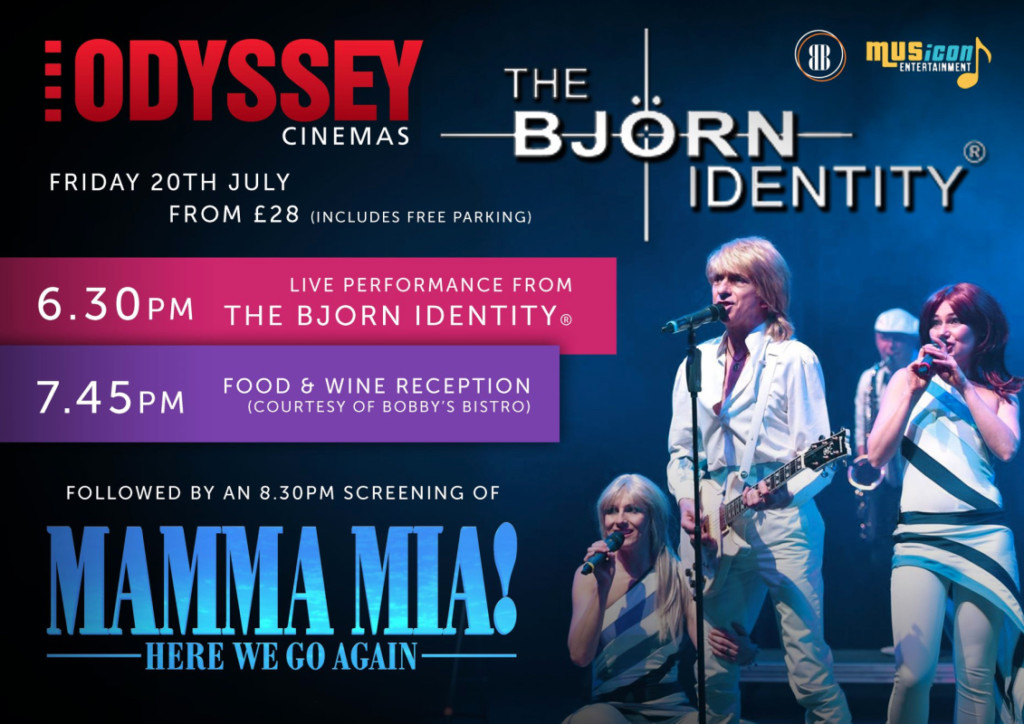 A perfect marriage of abba fans VS Mamma Mia movie fans was Bjorn at Odyssey Cinemas Belfast
The anticipation of Mamma Mia 2 – Here We Go Again movie release, hit the nation hard as the thirst for all things associated with ABBA continues to grow with music and film buffs from 8 to 80.
Exactly 10 years since the release of the first movie, based on the award winning stage musical before that, it seems that this along with the exciting new that Abba are to release 2 new songs; Abba fever has once again struck passionate Mamma Mia fans worldwide. Mamma Mia – Here We Go Again was released for screenings at the cinemas across UK in July 2018. The Odyssey Cinema Belfast made one exception and the fever was hot, when a perfect marriage of Abba fans VS Mamma Mia movie fans was Bjorn!
The Bjorn Identity ® now undoubtedly Irelands most popular Abba tribute show continue to exceed all expectations with their authentic replication of ABBA in concert. Expectations were indeed met as they were invited to perform at a special Mamma Mia Ultimate Abba experience – one off live tribute show & screening event at the Odyssey Belfast, Northern Ireland.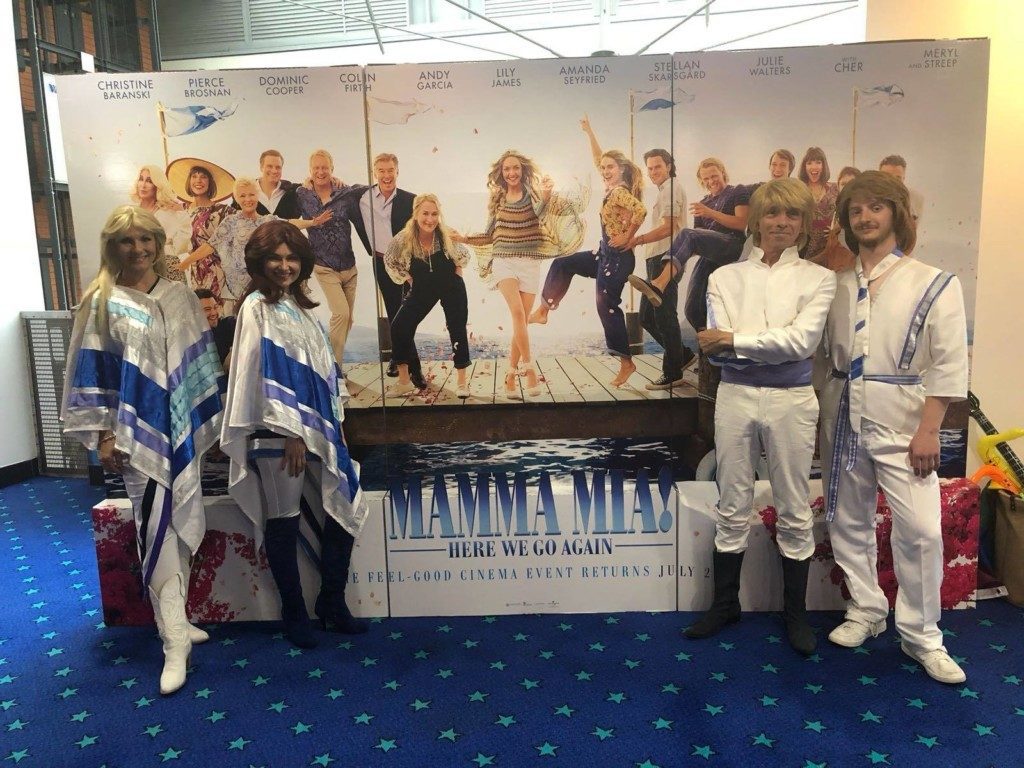 Thank you so much Bjorn Identity, it was an amazing night and what a performance!!!! – Odyssey Cinema, Belfast
The Bjorn Identity Live show, as much food and drink and you can eat supplied by Bobbies Bistro and screening of Mamma Mia 2 was the perfect event hosted by Odyssey Cinemas and after a smash hit performance from Ireland top Abba tribute show. There is no doubt this will be the last event of this kind.
"To be asked to perform at a special night like this, is for us like an endorsement of our show… it really doesn't get much more ABBA than this. The atmosphere in the Odyssey Cinemas was electric. We are truly humbled to have been asked to perform at" said Karen Rush manages the band and plays Agnetha)
WHAT DID THE FANS THINK
"Great event and delicious food and drink! More of these events please!" – Jacqui Loughart
"It was a really fantastic night from start to finish Your group was as fantastic as always didn't want it to finish. My sister and I spent the whole night dancing and singing along to all the brilliant songs. The food was lovely and to top it all off the movie was brilliant There was a real buzz in the cinema with everyone singing along to the songs and dare I say crying at the sad parts We felt like VIP guests from the minute we went in I can honestly say it was the best night out we have had in a while. I wish we could do it all over again I can honestly say that Bjorn Identity are the best Abba tribute band around and I look forward to seeing you again very soon" – Donna Mc Clure
"Thanks to all the staff last night, who worked so hard to make the premiere of Mamma Mia such fun! The food was lovely and so too the wine! Great idea to invite The Björn Identity to play – they really warmed us all up! A fantastic night, thank you!" — Jeremy Skillen.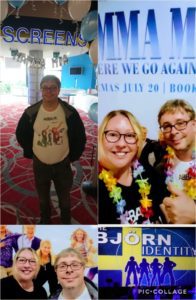 WHAT DID BJORN THINK OF THE MOVIE?
"It was fun, beautifully shot, clever and very moving. We adored hearing some of Abba's lesser known hits like, I've Been Waiting for You and My Love My Life… by that point I was passing my wife Karen, the tissues! We hope to be able to include some of these songs in our up and coming tour" added Richard Doubleday – Bjorn and Musical Director.
CLICK FOR DATES – THEATRE TOUR 2018